About Kagoshima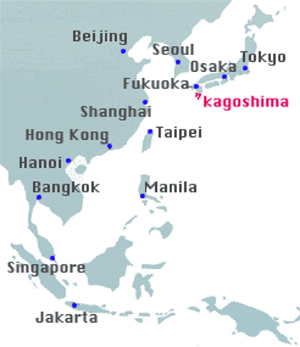 Fig.1 The relationship between Kagoshima and other Asian Countries

Kagoshima Prefecture is located on the southern tip of Kyushu, the southernmost of Japan's four main islands.(Fig.1) With a yearly average temperature of 18.5゚C (about 65゚F),the climate is mild and comfortable throughout the year. While the majority of the population is concentrated on the mainland, the some 28 prefectural islands of Kagoshima span for hundreds of kilometers further south(Fig.2).



Picture1.The green natural beauty of the forest on Yakushima Island

The landscape is blessed with a rich and diverse natural beauty. Of particular note is Yakushima Island, a World Heritage Site, which gained international recognition not only for its unique ecosystem, but also thanks to the famous animation "Princess Mononoke", which drew its inspiration from the spectacular terrain of the island.(Picture1)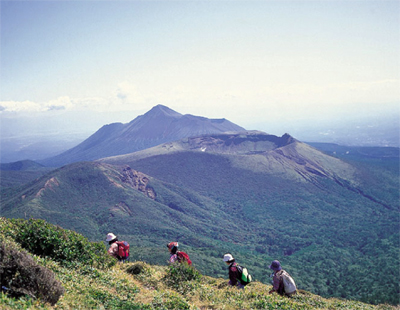 Picture2.Hiking in Kirishima mountains

However, the mainland itself is also a wonder of natural beauty. While the northern reaches of the prefecture are defined by the magnificent Kirishima mountain range (the mythological birthplace of Japan:Picture2.), the real jewel in the crown is the spectacular active volcano Sakurajima that stands proudly across the bay from Kagoshima city itself.

Picture3.View looking down on Kagoshima City from hills behind the city. The active volcano Mt. Sakurajima can be seen in the background across the bay.

The wondrous sight of this huge volcano in such proximity to the city, coupled with the bay location and balmy climate, has earned Kagoshima the nickname "Naples of the Eastern World:Picture3.". The city is certainly a stunning place to live, study or visit. With wide, tree-lined avenues spreading out from the central station towards the tranquil bay, it is a picture-perfect modern city that maintains all of the charm and tradition of its rich heritage. During the summer, the city can be seen in all its glory as nightly firework displays take place on the bay.


Picture4.Tram running

Yet Kagoshima is so much more than a charming and beautiful city.(Picture4.) In historical terms it is of particular importance in the framework of Japan.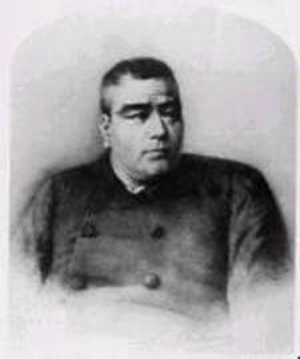 Picture5.Saigo Takamori (1827-1877)

While most people are familiar with the 2003 Hollywood film "The Last Samurai", it may be an eye-opener to learn that the last samurai himself was based on one of Kagoshima's very own sons. Ken Watanabe's character "Katsumoto" was in fact based directly on Saigo Takamori: a philosopher, scholar, educator, poet, and one of the most influential samurai in Japanese history.(Picture5.) Saigo san, as he is affectionately known in his hometown, was born in the Satsuma domain (present-day Kagoshima) in the "Edo Period" in the mid-19th Century. He was a key figure in the 1867 Meiji Restoration where the Emperor was "restored" to power, putting an end to the 250 year Tokugawa Shogunate rule and modernizing and industrializing Japanese Society. However, disaffected, he went on to lead the "Satsuma Rebellion" against the central government in 1877. His huge bronze statue now stands, defiant, outside the Kagoshima City Art Gallery, although his spirit undeniably lives on in the people of the city.


In addition to this history, Kagoshima Prefecture also keeps alive a number of traditional crafts such as authentic Amami Oshima Pongee(Picture6.), a beautiful hand-made silk fabric, Satsuma Ware pottery(Picture8.) which dates back more than 400 years and includes the elegant and graceful White Ware and the warm and earthy Black Ware, and Satsuma Kiriko glassware(Picture7.) which combines Chinese techniques for overlaying colored glass on clear glass with European glass cutting methods to produce hand-made works of art.

Kagoshima is also a big agricultural producer in addition to its crafts. Kagoshima Prefecture is famous in Japan as a producer of Black Cattle for beef production, Berkshire Pigs for pork production, fishery products, many types of fruits, vegetables and tea, and Shochu, the local alcoholic drink. Hot springs, clear marine and freshwater, forest, white beaches, multi-function of rural area including pottery villages, festivals those of which are attracting the people, can animate your life in Kagoshima.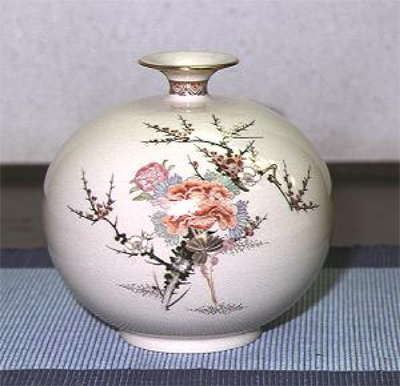 Picture8.This vase is an example of Satsuma Ware in white.


More about Kagoshima
Historical Linkage with Foreign Countries
As mentioned earlier, Kagoshima area has a lot of myths as the place where Japanese gods (They are enshrined by Japanese Shinto shrines) descended to the peak of the Kirishima Mountain. The remains of people's livelihood as old as 13,000 years ago have also been found in many places in the area, due to its mild climate. Many foreign civilizations have been introduced through Kagoshima, southern front gate of Japan in its long history. Kagoshima used to be an area with exotic atmospheres, indicated by the name of places such as Soo, Ei and Tokara, those of which must be foreign origins. One of the examples of foreign civilizations can be Buddhism from China. The famous monk (Ganjin (668~763) who provided a great influence on Japanese Buddhism) landed at the southwest coast of Kagoshima where were favored with natural ports. Both Christianity (by Francisco de Xavier (1506~1552: Portuguese) and western gun have firstly brought to Japan in 16th century through Kagoshima. Due to the reason that the land of Kagoshima is mainly composed of volcanic ashes, and is not appropriate area for the rice production that was the base of Japanese economy, loads of Feudalism, Satsuma clan, had to find other source of income for their development. Major economic activities instead of rice production was foreign trade by smuggling under the circumstance that central feudal government (Tokugawa Shogunate: 1603~18674) prohibited (locked countries policy) to communicate with foreign countries except limited foreign trade through Nagasaki. Such informal communication with foreign countries was the base for Satsuma's modernization including introduction of modern military system and equipment in the end period of Tokugawa Shogunate. Such special situation of Satsuma clan compared with other clans in Japan made them together with Choushu (Clan corresponding to the current Yamaguchi Prefecture) lead the Meiji Restoration to change from being a feudal society to having a capitalist economy and left the Japanese with a lingering Western influence. As shown above, Kagoshima, Satsuma area is characterized as an area where have been actively communicated with foreign countries in Japan.

---
Agricultural Products and Culture on Food.
As shown in above map, Kagoshima Prefecture spreads about 600 km in north and south(picture9.). Such special geographical feature make the unique prefecture in Japan that has two climate zones (temperate and sub- tropical) and wide variety of biodiversity. Thus, as Kagoshima can have an advantage to monitor the changes between two climate zones within the Prefecture, collaboration through joint research and exchange of information with the countries located in other climates such as tropical climate is an important issue of agro-based industries in Kagoshima area as well as the research work of the University in the field of adaptation to climate change. If such changes occurs along line with global warming theory, the findings in Kagoshima Prefecture in collaboration with tropical countries may indicate some of long-term trend on the effect of climate changes to agriculture industries that may be encountered by northern part of area, such as Japan as a whole.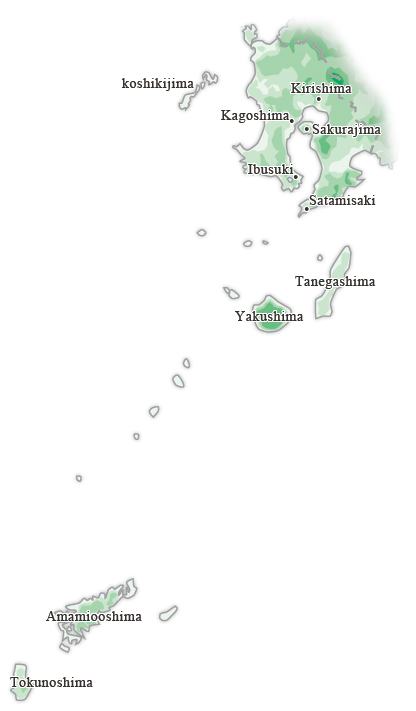 Fig,2 Kagoshima Prefecture